Precision Cold Forgings:
We supply cold forgings from one inch minimum O.D. to four inch O.D.max. from carbon and alloy steel. Presses from 150 to 800 tons. Net and near net parts. All production occurs in Windsor, Ontario within 2 miles of the tunnel from Detroit.
For the last 20 years we have supplied 100% on time delivery with -0- Zero PPM's.
Product is supplied to companies though out the U.S.and Canada to Fortune 500 OEM's, the aftermarket and Tier 1, 2 and 3 companies. Typical parts include, but are not limited to: Cold forged axles, mining bits, clutch hubs, gears, pins, pinions, step and intermediate shafts, and sleeves. We operate our own sawing facility and affiliated machine and die shop for all our tooling requirements.
Our expertise is designing the optimum forging with the least machine stock possible helps to achieve maximum cold forging cost savings. We will design a part based on your finished part adding a minimum of raw material for clean-up. The result is lower part costs due to less material and significantly less machining is required by our customers.
One example is a part that was previously a near net shaped hot press forging with only 1 degree draft. Technically a very nice part – in the past! The original part weighed 3.5 # pounds, had a minimum of .060″ machine stock and 1 degree draft. We reduced this parts net forging weight to 2.5 # Pounds a 33% reduction! The new near net part has less than 010″ machine stock and no draft. The result is significantly less machining and waste, faster processing times and better value to our customers.
Cold forgings supplied to exacting quality standards with deliveries tailored to suit customers requirements. Provide your current part drawings and we will develop a proposal to provide the most economical part feasible.

Part size capabilities:
Up to 4″ outside diameter
Up to 16″ in length (dependent on press – 800 ton press limit is 10″)
Specialize in extruded shafts and headed pins etc.
General tolerances and machine stock allowance:
Length Tolerance +/- .5mm (+/- .02″)
Diameter Tolerance +/- .25mm or better (+/-.01″)
Stock allowance .25mm or less! (.01″)
CPK tracking critical dimensions on random parts average = 7.21
Advantages of cold forgings include:
Net and near-net parts – reduce or eliminate machining
Reduces raw material waste – No Flash!
Low scrap rates -0- PPM rejections
Tight tolerances with forged centers if required
Excellent surface finish with no scale!
Utilize turned and polished bar – no decarb!
Improved physical properties by refining grain structure
Eliminates subsequent heat treating
Average press uptime = 94%
Forged in centers can eliminate end mill and center operations.
Material Grades available include the following SAE series:
1000
1100
1500
4000
4100
4700
5100
8600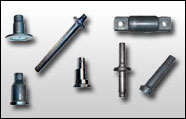 Why Cold Forging as a superior alternative to machining bar stock?
Precision Cold forging offers near net production of parts at room temperature. Cold forging makes products precisely sized very close to the final shape. The mechanical deformation refines grain structure and breaks up and aligns any inclusions. The result is that the grain of the material lies parallel to formed surfaces rather than breaking through and providing opportunities for crack initiation as in machined parts.
The precision cold forging process combined with finish machining offers significant raw material savings and machining time vs. machining from bar stock or from a standard upset hot forged part. Cold forging provides consistent and more precise tolerances and maintains microstructure grain flow for better finish and durability.
Cold forging work hardens material and raises its yield stress. With strength and other mechanical properties improved thicknesses can be reduced and the resulting savings on weight and material are likely to be considerable.
Remember:
Higher yield – stronger
Closed tolerances
Less machine stock
Fine surface finish with no scale
No draft – none!
Part to part uniformity – dimensional repeatability
Functional reliability
Excellent definition
No Cost – No Obligation:
Whether you have an existing part or are designing a new component, our application engineers will determine if cold forming will benefit your application. Prior to any investment on your part samples will be provided and delivered based on your purchase order and must be approved by you prior to paying for tooling.
Quotes in 2-3 days maximum